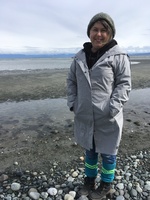 Kristin Nelson, 2019.
I am a white person with a disability who identifies as part of the queer community. I live in Treaty 1 Territory, the territories of Anishinaabeg, Cree, Oji-Cree, Dakota and Dene Nations, and the homeland of the Métis Nation (Winnipeg, Manitoba). My grandmother and grandfather were orignially from Belfast, Northern Ireland. My mother's family immigrated to the territory of the Huron-Wendat, Seneca, the Mississaugas of the Credit River, and the Mississaugas of Scugog Island First Nation (Don Mills, Ontario) in the 1950's. My father's ancestors moved from Cavan County, Ireland, and settled in the territory of the Anishinabek, Huron-Wendat, Haudenosaunee and Ojibway/Chippewa peoples (Caledon, Ontario) in the early 1900s.
I was Born in Ajax Ontario, and received a BFA in Visual Arts from the Emily Carr Institute of Art and Design (2003) and MFA from Concordia University (2014). Through a process of examination and re-contextualisation, I transform mundane subjects into larger social concerns. I have completed a Riding Mountain Artist Residency (2017), a Canada Council International Residency at Artspace in Sydney Australia (2015) and a residency at the Banff Centre for the Arts (2008). I have exhibited work across Canada at Musée Regional de Rimouski, Parisian Laundry and Skol (Québec); Art Toronto, Art + Design IDEA/EXCHANGE and Edition Toronto 2 (Ontario); Neutral Ground (Saskatchewan); and at the Winnipeg Art Gallery, La maison des artistes visuels francophone, Plug In ICA, Actual and RAW Gallery (Manitoba). My work has shown internationally at Museo Textil de Oaxaca in Oaxaca, México and in Austin, Texas. I have been a mentor for women identified artists at MAWA and served on the board of directors for Arts AccessAbility Network Manitoba, Plug In ICA, the Winnipeg Arts Council, the Manitoba Craft Council and the Manitoba Printmakers Association Inc.
My work is in private and public collections including those of Boralex, BMO, the Province of Manitoba and the Winnipeg Art Gallery.